Unnumbered list item 25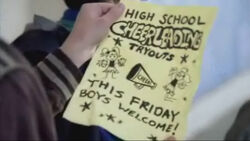 List title
Kept Kenny from his dreams of cheerleading
Unnumbered list item 25 was an unnumbered item on The List.
Kept Kenny from his dreams of cheerleading
Edit
Earl found a poster for cheerleading tryouts in Kenny James' bag as a child, and assumed he was going with the hopes of joining the team. In reality, it was Randy who wanted to be a cheerleader and he stuffed the leaflet in Kenny's bag to avoid being teased by Earl.
To make up for this, Earl agreed to join Camden's cheerleading team with Randy and entered a show, which amazingly they performed well in. Earl was able to cross off the item. ("We've Got Spirit").
Ad blocker interference detected!
Wikia is a free-to-use site that makes money from advertising. We have a modified experience for viewers using ad blockers

Wikia is not accessible if you've made further modifications. Remove the custom ad blocker rule(s) and the page will load as expected.