Unnumbered list item 30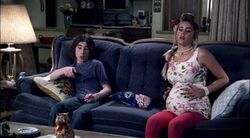 List title
Got the Babysitter Pregnant
Unnumbered list item 30 was an unnumbered item on The List.
Got the Babysitter Pregnant
Edit
Earl had a crush on Rachel the babysitter that look after him when his family went square dancing but one night Rachel brought her boyfriend Daniel along and broke Earl's heart. Earl got angry and when to take some money from Daniel's wallet but when he found a condom inside he poked a pin through it and got Rachel pregnant. Earl made it up to Rachel and Daniel by helping get their live-in obnoxious son Ronnie in to the real world.
Ad blocker interference detected!
Wikia is a free-to-use site that makes money from advertising. We have a modified experience for viewers using ad blockers

Wikia is not accessible if you've made further modifications. Remove the custom ad blocker rule(s) and the page will load as expected.