Unnumbered list item 31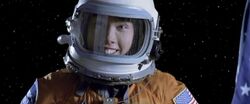 List title
Stole and destroyed Chaz Dalton's space suit
Unnumbered list item 31 was an unnumbered item on The List.
Stole and destroyed Chaz Dalton's space suit
Edit
Earl and Randy were sent to the Chaz Dalton Space Academy when they were children. Earl admired Chaz so much that he had stolen his space suit to wear and was planning on returning it, unfortunately the suit had shrunk in the dryer, so Earl goes to confess his crime to Chaz. While seeking out a replacement space suit, Earl sees a picture of Chaz Dalton, and he realizes the man running the Chaz Dalton's space camp is not the man he claimed to be. Earl got the real Chaz Dalton to run the academy to discover that he had also been a fraud. The fake Chaz returns and is better with the children so both of them ran the Academy together and got a new spacesuit, meaning Earl could cross Chaz off his list.
Ad blocker interference detected!
Wikia is a free-to-use site that makes money from advertising. We have a modified experience for viewers using ad blockers

Wikia is not accessible if you've made further modifications. Remove the custom ad blocker rule(s) and the page will load as expected.